From coast to coast, on 31 December Canada comes together for an evening of celebrations, fireworks and parties. Home to a diverse mixture of cultures and traditions, Canada is a perfect winter wonderland for a fantastic New Year's Eve experience. 
From incredible fireworks over Quebec City, Banff and Niagara Falls to parties in Montreal, Vancouver and Calgary, Canada knows to ring in the New Year. This year's celebrations have been pulled back, with many fireworks displays being cancelled throughout the country, but we still wanted to make sure we put together a guide for the future.
Canadians love winter - from ice-skating to snow-shoeing, they revell in the snowy months knowing that it's better to enjoy the cold than to constantly complain about it. For New Year's celebrations, some Canadians head out of the cities to go on ice-fishing trips with friends and family or catch a glimpse of the Northern Lights in one of the many destinations the country has to offer. No matter where you find yourself in Canada, there are plenty of activities to indulge in.
6 Best places to celebrate new year's eve in Canada 2022
1. Toronto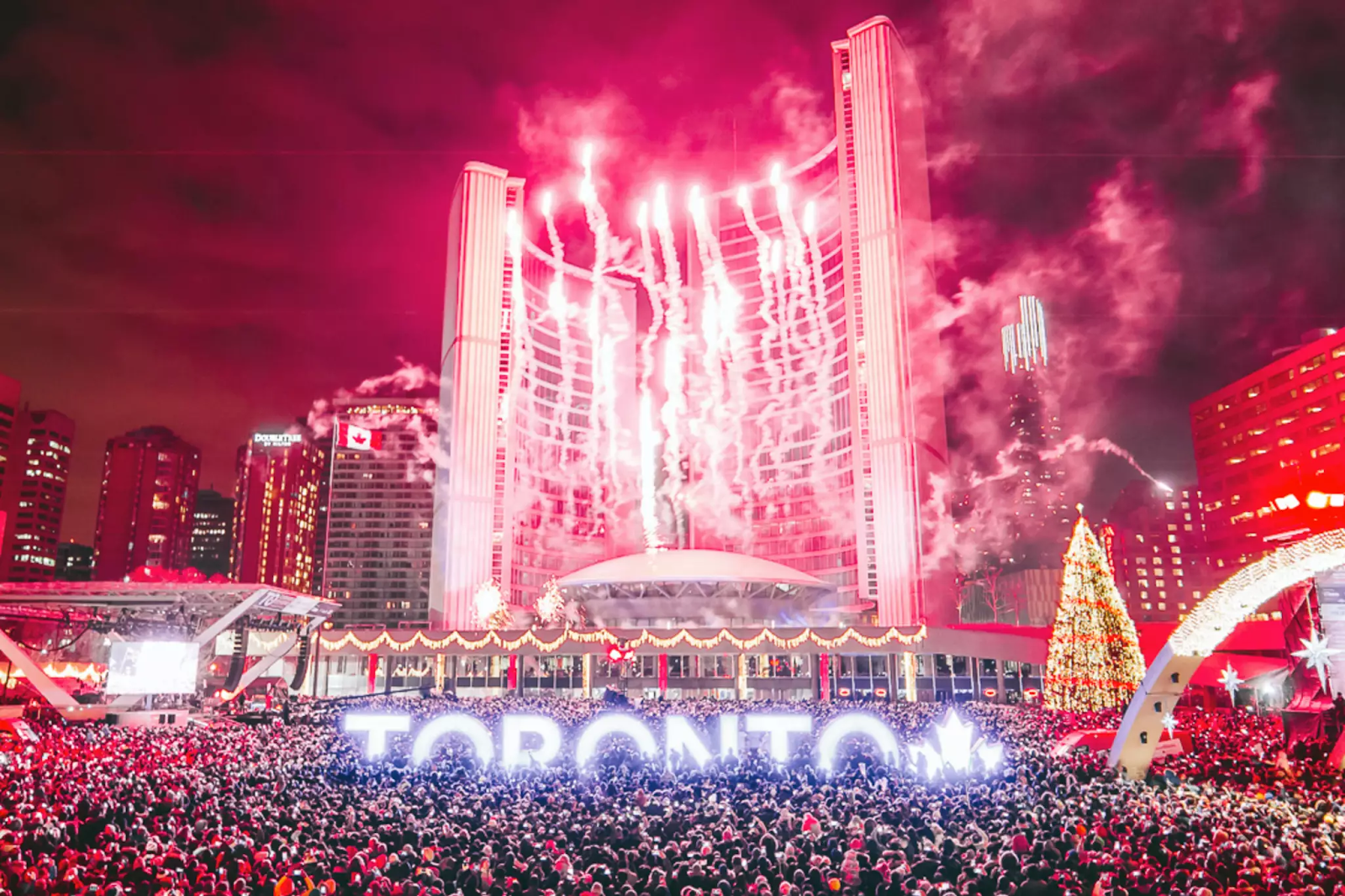 Every year, downtown Toronto becomes the main destination for your winter activities - the Nathan Phillips Square is turned into a huge ice-skating rink with people enjoying their evenings out with friends and family. On December 31, Toronto hosts its annual all-ages and free New Year's Eve celebration in the square, with DJ skating parties, live musical performances and spectacular fireworks.
2. Montreal
Montreal has geared up for the festive season with beautiful installations all over the city, but crowds flock to the city because no one does New Year's Eve quite like Montreal. Under normal circumstances, there is live music and firework displays, while clubs and restaurants put on their own events for the evening. The city hosts a world-famous party at L'Olympia night club, with over 2,500 people gathering there to dance through the night. 
If you are looking for something different, head to the city's Old Port, Montreal's oldest neighbourhood with cobbled streets and endless markets, historical landmarks, museums and architectural gems. There is an annual free celebration called Merry Montreal, with local artists performing all evening and fireworks going off at midnight.
3. Winnipeg
Locals flock to The Forks, a meeting place with a history of over 6,000 years, for the city's beloved, The Forks Family New Years Eve Party. In the past, it hosted over 30,000 people over the course of the night, outdoor skating, sledding and snow sculpting festivals apart from the amazing party that is held here every year. The highlight of the night is the three-time fireworks display, that you wouldn't want to let go off or miss out on, at all.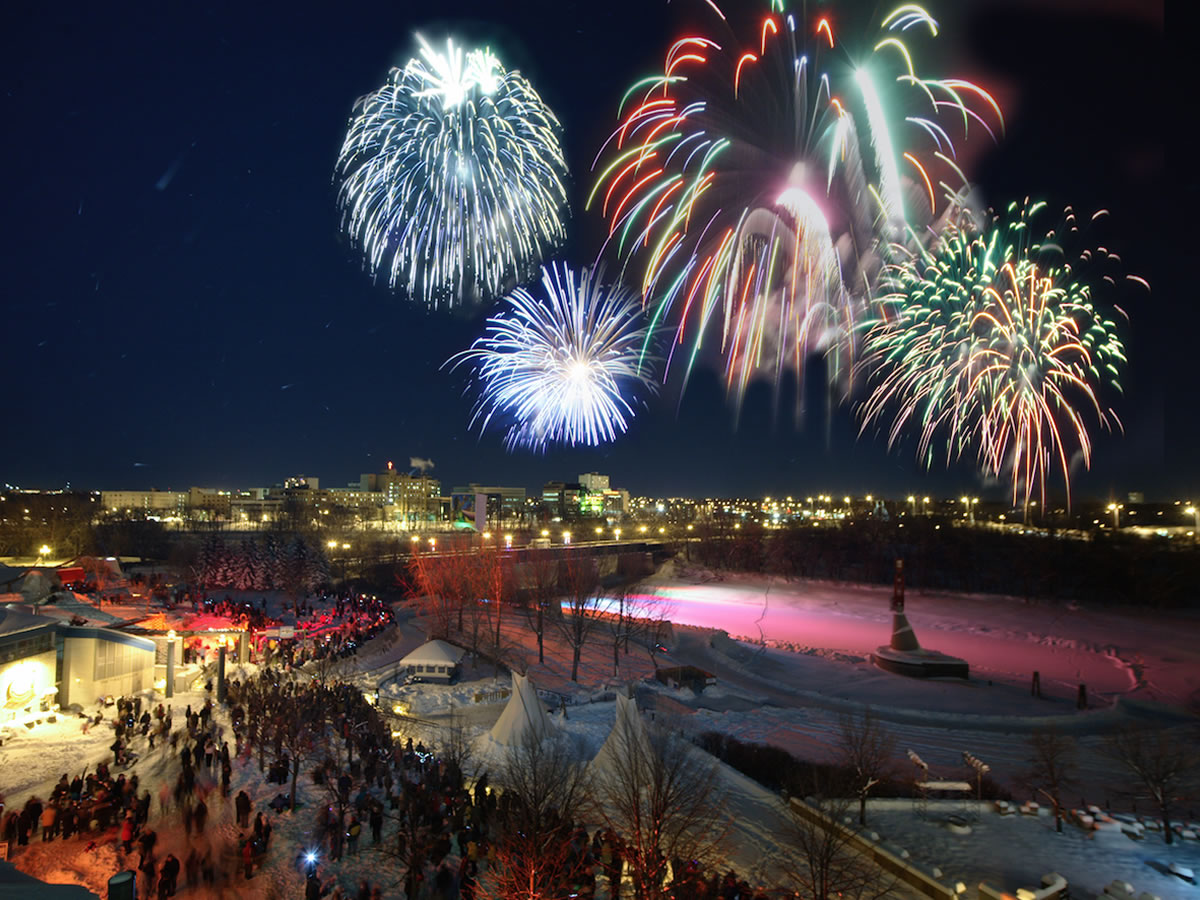 The event has activities for the entire family - there is sledding, snow sculpting and ice-skating outdoor skating, sledding and snow sculpting festivals with warming huts and fire pits available throughout the grounds to warm up. There are two firework shows that accommodate the young - and sleepy - members of the family as well as those who want to ring in the new year at midnight.
4. Northern Lights
This year particularly, you may want to steer clear off cities - especially since almost no celebrations are allowed. Take a leaf out of the Canadian book and head north for a New Year's Eve celebration like no other. Enjoy the view of the Rocky Mountains in Banff - which basically turns into an alpine Times Square on 31 December every year - or try to catch a glimpse of Aurora Borealis in one of Canada's northern provinces.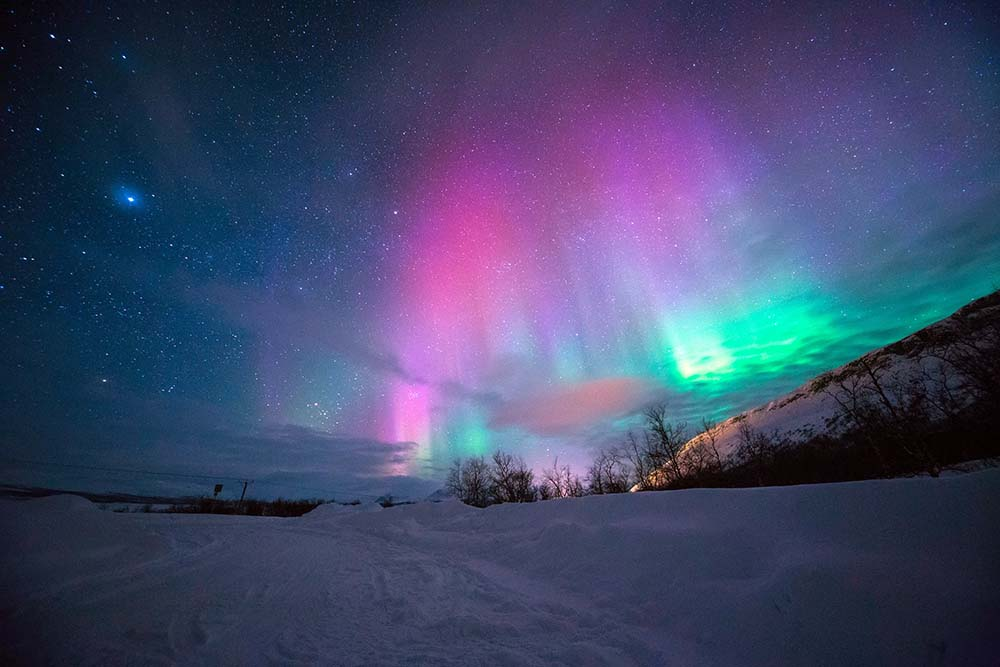 You will be able to skate across frozen lakes, go snowmobiling and cross-country skiing - all while enjoying the incredible views the country has to offer. Head to Yellowknife, the capital of the Northwest Territories, or Whitehorse in Yukon for some of the best places in the world to watch the Northern Lights with a hot chocolate in your hand. 
5. Vancouver
Vancouver is a hive of activity during the festive season, and New Year's Eve is no different. Visit the beautiful VanDusen Botanical Garden for its stunning Festival of Lights. Journey through themed areas full of everything from Scandinavian gnomes to a Dancing Lights show at Livingstone Lake.
If you are in Vancouver this year end, gear up for there is a lot to do besides attending the best New Year Parties In Canada. The first thing you need to do is visit the gorgeous VanDusen Botanical Garden, which holds the Festival of Lights. The highlight of the event is the dancing light show at Livingston Lake. Also, you can join the Waterfront Gala Ball which is Vancouver's flagship New Year's Eve street party. There are fireworks, food trucks, cocktails and beer, live music and many more delights that will keep your company way past midnight.
6. Quebec City
Quebec is a truly charming city to visit at any time of year, but especially during the festive season. The Old City, chock full of historic buildings, cobblestone streets and fabulous restaurants, looks incredibly picturesque when illuminated for the occasion.
Whether sightseeing, shopping, exploring the historic walled city or embarking on adventures like snow tubing and skiing, you can spend several days of the New Year period in this amazing area. During your visit, you can explore the Quartier Petit Champlain, North America's oldest neighbourhood and the site of Quebec's first port in the day before getting tucked into the city's world-famous food scene to celebrate the New Year.
Carole Funger, the blogger behind the Here By Design site, tells us why Quebec City is also one of her top choices for New Year's.
"The city celebrates New Year's in a big way with a large outdoor New Year's Eve party on the Grande Allée, featuring live music, dancing and even a Ferris wheel. The many restaurants on the periphery of the square feature special menus and their heated outdoor patios provide great vantage points from which to observe the festivities.
"In the afternoon we headed up the steep staircase known as 'L'Escalier Casse-Cou' to the Dufferin Terrace that runs along the top of the old Citadel. From this high vantage point, you can take in sweeping views of the city. Just behind is the hotel known as Chateau Frontenac which is decked out in holiday splendour. It also has an outstanding afternoon Wine and Cheese Tasting at a beautiful circular bar with views out onto the St. Lawrence River."