How to apply to universities through Edvoy 
Updated on:
Sep 7, 2023
Click here and sign up to explore top universities and get free expert guidance!
Applying to a university as an international student can be complicated. Read on for a simple and hassle-free way to apply and get admitted to your dream university.
In this article:
Choosing your course and university
Choose a subject area
Honing in on the subject area that will help you reach your career goals is very important. It would be best if you took some time to consider all the relevant factors before finalising your choice.
Things to consider
When choosing a subject area, try to answer the following questions. Though you might start with a bit of uncertainty, with some analysis, you will be able to choose the one you are passionate about.
Why do you want to study the subject?
Are you interested in the subject?
Does it suit your academic background?
How will it aid your career?
Choose a destination country
There are many fantastic study destinations around the globe - the UK, USA, and Canada to name a few. Pick out some countries you want to study in and write the pros and cons of studying in each country.
Finally, try to answer the following questions about your chosen destination.
Why do you want to study in this country?
Will the teaching methods in that country suit you?
Are you comfortable with the cost of living?
Are you happy with the lifestyle the country offers and its culture?
Are you satisfied with the country's immigration policies and post-study work opportunities?
If you are able to give positive answers to the above questions, you've found your destination country.
Shortlist your universities
The university you choose to study in will play a significant role in your education and your career. You don't have to choose 'the one' right at the beginning. Start by shortlisting the universities you like the most. Also, remember that you can apply to more than one university.
Things to consider
University ranking and educational quality
Facilities and faculties
Syllabus of the course
Duration of the course
Work placement opportunities
Basic amenities (Food/Accommodation etc.)
Tuition fees and cost of living
Location
You can shortlist easily using Edvoy's Get started and filter features. To know how, read, 'How to shortlist universities to study abroad?'
Preparing your application
There are three main areas you need to consider before starting your application - entry requirements, documents, and finances.
Entry requirements
Every university will have its own set of entry requirements for admissions, such as English language assessment test scores (IELTS/TOEFL, etc.) and general admission tests (GRE/GMAT/SAT, etc.). You need to check the entry requirements for your chosen universities and work to meet them.
Documents
You need to put together an extensive set of documents including your CV, SOP (Statement of purpose), ID proof, academic transcripts etc. This list of documents varies between universities. You can reach out to our education advisors for guidance on this step.
Finances
Budget is an integral part of studying abroad. You need to show that you will be able to fund your studies and stay in your chosen country. If you need assistance in supporting your education, you can explore scholarships and sponsorships. You can search for scholarships through Edvoy. For more on this read, 'How to search for scholarships through Edvoy?'.
Applying to your target universities
Step 1:
Create an account in Edvoy and log in. For more details on this read, How to create an account on Edvoy?
Step 2:
Go to the course page of your choice and click on Start Application. You can go to the course page by clicking on it from your 'Get started' result, wishlist or by searching for it in the search bar. (Get started and wish lists are features that help students shortlist courses. To know more about them read, 'How to shortlist universities to study abroad?'.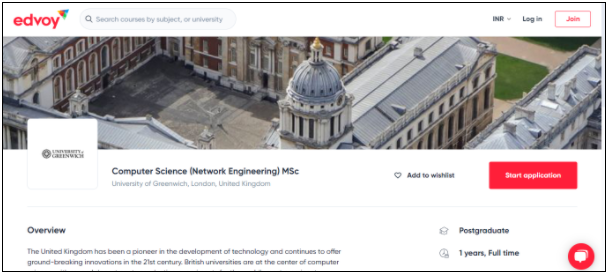 Step 3:
You can track the progress of your application and chat with our education advisors about your progress.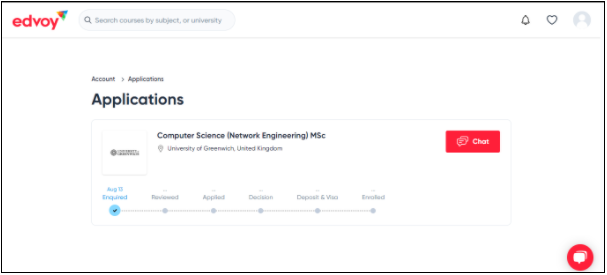 FAQs on UK university applications
How early should I start my application process?
It is always good to start your application process early. This will help you apply for early bird scholarships and other financial aids.
If you want to apply for an undergraduate degree, you can start your application process in the final year of your high school.
If you want to pursue a postgraduate degree, you can begin your application process in the final year of your undergraduate degree.
What are the tentative deadlines for application submission?
Deadlines vary between universities. You can check the websites of your shortlisted university to find the exact deadline. It is advisable to apply early instead of waiting until the last minute.
How many schools should I apply to?
There is no cap on the number of universities a student can apply to. We advise you to shortlist 3-5 universities and apply to them.
For further assistance or advice, you can reach out to our education advisors online.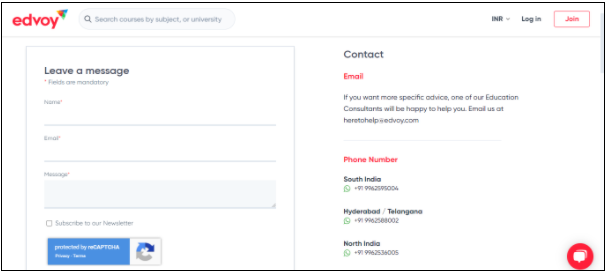 Leave a message with your name and email ID or contact the consultants directly by calling them in the mentioned mobile numbers.
"}}]}